"Wow, talk about a long story!" ― Cowboy

Cowboy is a character in The Messenger. He assumes the role of The Messenger as he bears the scroll. The Shopkeeper retells the events of the game in the form of a story to Cowboy.


Profile
[
]
Appearance
[
]
Cowboy is a man with short brown curly hair and brown eyes. He wears a tan plaid shirt, tan pants, a tan cowboy hat with a red stripe, a red bandanna that covers the lower half of his face, and red cowboy boots with tan spurs. On his waist are a red belt with a tan buckle and a tan gun holster.
Personality
[
]
Cowboy likes hearing stories from The Shopkeeper. He requests for another story despite hearing an extremely long story beforehand.
Main Story
[
]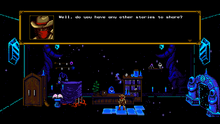 After the credits roll, the camera pans down to The Shop, where The Shopkeeper finishes telling Cowboy the story of the events of The Messenger. The Cowboy exclaims that it was a long story. The Shopkeeper dryly replies that he was the one who asked for a story in the first place, and she asks if he needs anything else. Cowboy explains that he doesn't know what he wants to do since he can't afford to purchase any upgrades, so he asks The Shopkeeper for another story. The Shopkeeper obliges and begins another tale.
Trivia
[
]
Cowboy is referred to as "ENDING_HERO" in the dialogue files.

Prior to the Version 2.0.2 update, the cauldron, scrying orb, and shelf with a weighing scale were still present during the Cowboy cutscene. Now they are all absent.
In the "Sabotage end of year Q&A 2018" video, a fan asked if the events of The Messenger were fictional, since The Shopkeeper retells the events of the game in the form a story to Cowboy. Thierry Boulanger, the main director and writer of the game, confirmed that the events truly did occur. He hints that there are multiple timelines and realities, and even though the Curse was defeated in Ninja's story, it doesn't mean that it is the reality that should be made canon, because it's not necessarily the reality that produces the least amount of suffering for the largest amount of people. One mysterious being is pulling the strings, attempting to solve it all.[1]
References
[
]