Cinematic cutscenes are special cutscenes that provide important exposition in The Messenger.
Intro Cutscene
[
]
The intro cutscene automatically plays when you start up the game.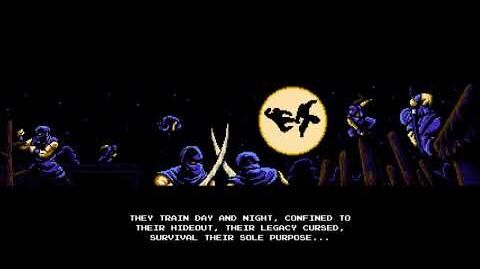 | Picture | Caption |
| --- | --- |
| | AT THE WESTERN EDGE OF A FALLEN WORLD LIES A CLIFFSIDE VILLAGE... |
| | HARBORING THE LAST SURVIVORS OF THE HUMAN RACE, THOSE WHO CHOSE EXILE OVER DEATH... |
| | THEY TRAIN DAY AND NIGHT, CONFINED TO THEIR HIDEOUT, THEIR LEGACY CURSED, SURVIVAL THEIR SOLE PURPOSE... |
| | LEGEND WARNS OF THE DEMON ARMY, BOUND TO STRIKE AGAIN, EAGER TO COMPLETELY ERADICATE HUMANS... |
| | FORTUNATELY, LEGEND ALSO TELLS OF A HERO, FLYING IN FROM THE WESTERN OCEAN TO BRING PROTECTION AND KNOWLEDGE... |
| | ON A DAY THAT BEGINS LIKE SO MANY OTHERS, A YOUNG NINJA IS ABOUT TO BE VISITED BY THE WESTERN HERO... |
| | AND SENT ON A PERILOUS JOURNEY INTO THIS MERCILESS WORLD, TO CARRY A SCROLL PARAMOUNT TO THE CLAN'S SURVIVAL... |
Music Box Cutscene
[
]
After collecting all of the Music Notes and placing them onto the wall in the Tower of Time HQ, the Music Box cutscene plays, before entering the Music Box.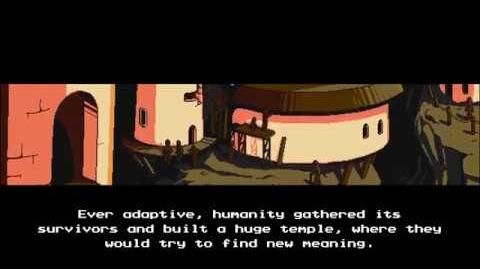 Picture
Caption



Eons ago, a civilization of giants lived in the clouds, protecting the world from unknown forces.
Centuries went by in harmony, until one day they watched helplessly as the world suffered a massive flood.
Only a single piece of land remained.
Ever adaptive, humanity gathered its survivors and built a huge temple, where they would try to find new meaning.
Answering the call of these troubled times, a formidable couple stepped up to be their leaders.
Gifted with a beautiful voice and an otherworldly ability to create mesmerizing trinkets, everyone called her Muse.
And he, ever stoic, fearless and mysterious, would become known as Phantom.
After a decade of relative stability the skies began flashing red, as if a war was being waged against the sky giants.
Indeed, an army of demons, destroyers of worlds, had found the human realm.
With humanity's protectors soon to be extinct, Muse and Phantom inspired everyone to prepare for the inevitable onslaught.
The demon army was too strong. The temple was lost, and Muse was killed while trying to protect her people.
Fighting back tears, Phantom picked up her final creation to keep as memento: a Music Box.
Abandoning the temple to the Demon King, he led the last survivors of his race to the western edge of the island.
That final stand proved successful, and after instructing his people to rebuild and stay hidden, Phantom pushed his luck.
Blinded by rage, he darted towards the temple in a foolish attempt to take down the Demon King.
Insulted by the boldness of this broken being, the Demon King opted for a punishment worse than death.
Corrupting his love's memento with demon magic, he turned Phantom's Music Box into a tether to the human realm.
Every 500 years, they would come back to torture humanity, until they abandoned all hope and surrendered to extinction.
Phantom was forced to wear a cursed mask which would steal his mind and keep him in a state of perpetual distress.
Inserted into the Music Box, he would play the organ forever to keep the relic's magic alive.
In this both mental and physical prison, he would be the one to ensure the curse on his legacy was maintained.
But Phantom's will was a strong one, offering lapses of sanity where he could tap into his growing understanding of demon magic.



The fight to get rid of the curse would last centuries, so his people would need the ability to cooperate across generations.
Time Travel was the key.
With his last stretch of sanity he wrote a scroll, imbuing it with enough power to attune its carrier to time magic.



Before losing his mind completely, he teleported his final hope, the scroll, to his people's hideout.
As they soon realized, the scroll let them see strange manifestations; things not every mind could stand.
Only a few brave adventurers had a strong enough will to carry the scroll: they called them Messengers.
With the ability to step through space-time tears, they had access to The Void: a safe haven outside of time.
Messengers from all time periods would soon gather there, the perfect meeting point for their endless war.
But as it turned out, meeting denizens of the future, or even one's alternate self, could be troubling for some.
After a few incidents of more primitive Messengers going into shock, they opted to conceal their appearance.
Thus the Order of the Blue Robes was founded, and together they built their headquarters: the Tower of Time.
Every curse cycle would have its champion, who would join the order after passing the scroll to the next Messenger.
With the support of the blue robes, after many cycles the Music Box was reclaimed from the Forlorn Temple.
Even though the relic was too powerful to be destroyed, a new hope was found that day.
Mysterious forces of the world started materializing in the form of magical Music Notes.
After one particularly gifted Messenger managed to gather two of them, an idea emerged. An idea crazy enough that it just might work...
If they created a melody strong enough to breach the Music Box's protection spell, maybe a Messenger could enter it and rescue Phantom!
Picnic Panic Intro Cutscene
[
]
The intro cutscene for Picnic Panic.
| Picture | Caption |
| --- | --- |
| | IN AN ALTERNATE TIMELINE, FAR OFF THE COAST OF MESSENGER ISLAND... |
| | THE SUN SHINED BRIGHT ON TROPICAL VOODKIN ISLAND, SO THE LITTLE PHOBEKINS DECIDED TO HAVE QUITE THE PICNIC... |
| | BUT AS FATE WOULD HAVE IT, DEMON GENERAL BARMA'THAZËL APPEARED OUT OF NOWHERE TO CAUSE QUITE THE PANIC... |
| | TAKING HIS HOSTAGES DEEP INTO VOODKIN ISLAND'S DEADLY JUNGLE, HE WOULD USE THEM FOR AN EVIL RITUAL... |
| | ONLY ONE HERO COULD TRAVEL ACROSS DIMENSIONS TO RESCUE THE PHOBEKINS AND FOIL BARMA'THAZËL'S PLAN... |
| | UNLESS, OF COURSE, IT WAS ALL A TRAP... |